The Rockaway Peninsula offers plenty of sights for urban explorers and historians with its alleys, old buildings, the fort at its tip, and numerous inlets on the side facing Jamaica Bay. Until recently I did not know that the Rockaways had its its own internal waterway.
Wavecrest Lake existed at the turn of the 20th century, surrounded by mansions and summer homes of the rich at a time when the peninsula served as the city's seaside retreat.
Where it Flowed
On the 1901 G. W. Bromley map, we see the hourglass-shaped lake ringed by winding streets reminiscent of Forest Hills Gardens, Fieldston, and other "garden" communities of that period. John Street on this map is today's Elk Drive and on the far right, Central Avenue was given the number Beach 20th Street while keeping its old name further north.
The neighborhood's name was coined by developer John Haven Cheever, who transformed the Clark estate into a gated community for the wealthy.
The lake disappeared between 1909 and 1912, based on historical maps from each year. The 1909 map shows the pond, and nearby Wavecrest Creek that fed into Norton Creek. Similar to Wavecrest is the development of Elton Park with its layout of winding streets. The 1912 map of this area shows the site of the pond developed with homes and small tracts encroaching on once-sizable mansion properties.
Looking east on Deerfield Road, which runs atop the pond site, the terrain is flat and there are no hints of the waterway that used to be here.
The Nearest Park
As I've done with the former Backus' Pond, when there is no open space on the site of the waterway, I take readers to the nearest park.
A block to the north of the former Wavecrest Lake is the 1.24-acre Grassmere Playground, which the city developed in 1955 in tandem with the elementary school P.S. 215.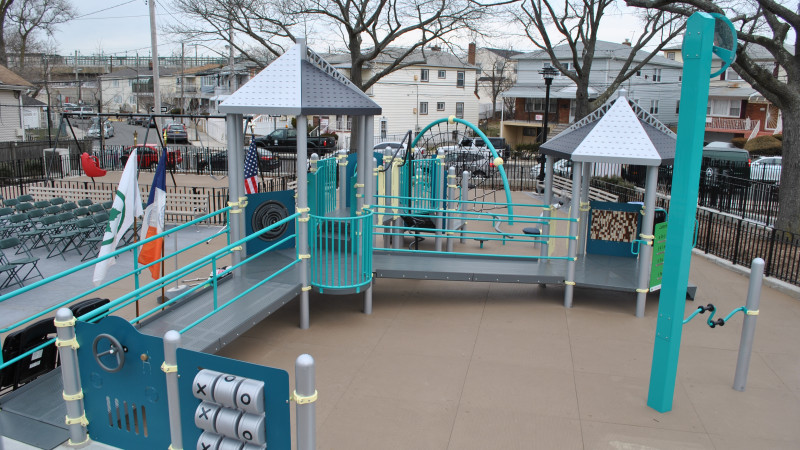 In early 2018 this park was transformed from a paved schoolyard into a much greener space with updated play equipment and wooded edges along its boundaries. The green elements here include rain gardens, permeable pavers, and on-site stormwater infiltration.
Learn More:
Earlier this week I wrote a photo essay on the history of Wavecrest and Edgemere on Forgotten-NY.
In the News:
Untapped Cities profiles the outdoor art of NYC for fall 2020, which includes a few shoreline examples across the city.
Brooklyn Paper reports on the introduction of an oyster nursery at Brooklyn Bridge Park.